You know the drill, Gang... it goes like this...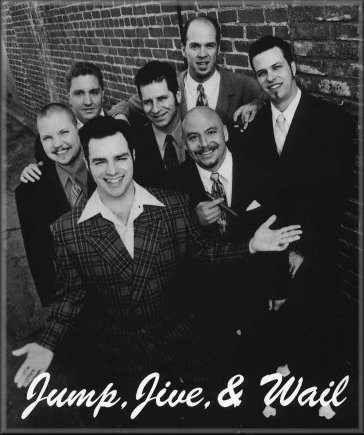 "Hey, Jack! In case you ain't noticed -- and we know you have, 'else you wouldn't be here look'n at this -- Swing is king, again!"

"All those Joes and Janes dress to the nines and hitting the floors across the country are hep to it. Bands are playing the music of Cab Calloway, Count Basie, Frank Sinatra, and more of the heppest cats to have ever swung. The clothes are cool. The dancing makes you sweat. And the music... we don't gotta elaborate. Do we?"
Ok... enough with the clever swing jargon. Let's get down to it. Aside from their continuing engagement at the world famous Bellagio Hotel and Casino, the time has come for the rest of the country to find out what everyone in Las Vegas already knows; wherever JUMP, JIVE, & WAIL is playing, you're gonna get hurt... but it's a good kind of hurt... the kind that swings.

The influences are clear. In homage to the original swingers, this eight-piece band has taken a dose or two of the legendary Louis Prima, a shot (or two) of Louis Jordan, a splash of be-bop and big band, and mixed (shak'n, baby, of course), with their antics on stage, JUMP, JIVE, & wail has already hit with a bang at what the mainstream has dubbed the "retro-swing" scene. But equally clear is the presence of original music that only results from the strong musicianship evident in this group. It's plain to see the boys in the band have plans for this genre that has never really gone away. It's just been waiting for the right time to resurface and remind us how much fun music can be.

Ok, Cats! Time out for those squares who have stumbled onto this on their pastel Macintosh whilst on their way to alt.binaries.discussions.bring.back.ALF; or for those hapless souls out there who haven't been to the record store since they were called "record stores"... it's not too late for you! Go to Tower Records. Go to Arthur Murray. Go to the nearest vintage clothing shop. And by all means, go see the band.

Go catch JUMP, JIVE, & WAIL!!!